Serena Hill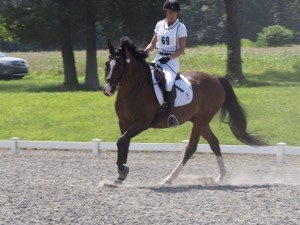 Nancy has been the best thing to happen to me and my horse, a 15.3 KWPN gelding.
I had been allowed under previous trainers to develop very bad habits not to mention the concept of "wrestling the head down" to get him to come into the contact.  As a consequence of this "tug of war", he was very heavy in the forehand, ran around with his head in the air and when I was able to get him into the contact, I was having to carry his head.  Not a pretty picture.
After watching Nancy teach another student at the barn where I board, I asked her "Can you help?"  ABSOLUTELY was the reply.
Her teaching method is not one of submission but of the horse and rider as Partners.  She evaluates each horse and rider and tailors the training accordingly.  It is not a One Size Fits All approach.
Lightness in the hands, balance and core strengths are key principles that Nancy teaches.  The results have been remarkable.  I am now a much more balanced rider and my horse has made an amazing transformation from one that was not willing to accept the contact to one that will.  Nancy also emphasized work in hand with him and now he looks like a different horse – while he has good confirmation, Nancy built up the muscling in his neck and back end.
I see the results not only in dressage but also in our jumping and eventing. The focus on my balance and core strength have produced more balanced turns when jumping a course and his balance on the approach to the fence.  The 2015 show season was our first together and it has been a  great learning experience.  We are now schooling Beginner Novice fences and plan to finish the show season with a recognized dressage show at Training level.
Looking forward to the continuing learning journey with Nancy.  I cannot thank her enough.